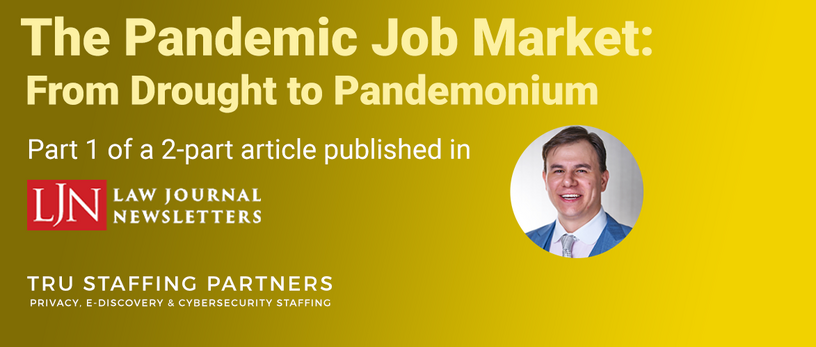 This article gives historical context to the events that brought us to the current climate and provides guidance on how employers and employees can successfully navigate the ensuing complexities of job searching and hiring in the post-pandemic pandemonium.
Over the last 12 months, the legal technology job market hit both a decade-long low and an all-time high for hiring, job movement and salary demand. In April 2020, the job market began its "Great Pause." Subsequently, the second and third quarters of 2020 saw fewer legal technology job openings than any two quarters since 2010. Flash forward to the second quarter of 2021, and there is more talent demand than supply, rapid salary growth to attract and retain employees, broadly increased job opportunity derived from changes related to work-from-home (WFH) adoption, and a resulting never before- seen level of turnover among middle-market positions that has the entire industry in a hiring frenzy. This article gives historical context to the events that brought us to the current climate and provides guidance on how employers and employees can successfully navigate the ensuing complexities of job searching and hiring in the post-pandemic pandemonium.
Space & Time
The pandemic's effect on the interpersonal interaction between employee and employer is radically changing the culture and talent acquisition process of organizations, law firms and corporations alike. For most companies, pre-pandemic, office culture had been defined by space: Are we bullpen or open floor plan style? Who has the corner office, and how does that impose status? Are the attorneys and the legal technology staff on the same floor, or even in the same building? Through the course of lockdown, office culture became defined instead by time: Who is made available to whom, when, and for how long?
Before, water cooler improvisation was the norm. Innovation often came from spontaneous physical collision of humans in an office working alone but together. During the pandemic, moments of collaborative ingenuity had to be scheduled. This leap from space to time as the function for creativity or collaboration has proven challenging for many and a tremendous opportunity for others. Where physical access to some peers and superiors was impractical before, virtual access has opened doors for more connectivity.
Space and time were also dramatically changed for the interview process once interviews went as fully remote as existing employees. Prospective employees were no longer expected to show up at a location that was likely foreign to them, groomed to perfection, and expected to perform in a superior fashion amid unfamiliar and intimidating surroundings. Now, employees are inviting potential employers into their homes via Zoom/Teams and vice versa. Nothing could be more personal, and, in turn, nothing should be more genuine. Before the pandemic, interviewing was about polish. Now, interviewing is about authenticity. Employers expect to see employees perform with greater ease, comfort and sincerity from the confines of their homes on the interview process. If you cannot be authentic from your own space, how could you ever be here in the office?
Additionally, the acceptance of video interviewing as a primary means for talent assessment has dramatically changed the speed of hire for all organizations. Cut out all the time it takes to align multiple calendars for an in-office interview, and what is left is the ability to make hiring decisions within days, not weeks. That is exactly what is happening right now.
The Need for Speed
In January of 2021, TRU Staffing Partners unveiled its annual Top 10 2021 Job Market Predictions in Legal Technology with a bold prophecy ranking first among all others: "Speed Wins War for Talent." No prediction has been more accurate than this.
From 2010 to 2019, 80% of all first, second, and final round interviews conducted by clients of TRU were in an office. From May 2020 to the present, 95% of first and second-round interviews have been virtual — 80% virtual for final rounds. The simple ability to interview talent faster through video has enabled the legal technology job market to make decisions with greater velocity than ever before; however, virtual interviewing is not the only factor injecting adrenaline into the hiring process.
From 2010 to 2019, 90% of law firm opportunities filled by TRU were in-office. Currently, more than 60% (down from 70% three months ago) of net-new law firm job openings received by TRU are remote or remote-hybrid, and close to 85% of ALSP roles are the same. Before the pandemic, companies, specifically, law firms, focused on filling jobs with people in their geographic backyard. Now, companies are considering candidates all over the country. This means they are seeing more talent right for a role without having to eliminate individuals based on location, which in turn means faster hiring cycles because more talent is available from the beginning of a search.
In 2019, interview cycles for executives lasted between three to six months. Interview cycles for middle-market talent (project managers, analysts, program managers, etc.) lasted between three to six weeks. Today, executive interview cycles can take as little as three to six weeks. Interview cycles for mid-market professionals often take no more than three to six days. For contract roles, over 50% of candidates hired through TRU are being hired within 72 hours of an initial resume submission. 1/3, 1/3, 1/3 Over the last several months, companies have been faced with an unprecedented challenge: What will the new normal be post-pandemic related to work-from-home permission and enablement versus a return to office strategy? Conventional wisdom seems to be that employees want flexible options, but there are also employees and plenty of employers who only want to be in the office.
A Q2 2021 FlexJobs survey showed that of employees working at home due to the pandemic, 60% say they would quit their jobs if forced to return to the office. What employees say and what they do are very different; however, as we can see from the actual quit rate of 2.7% (discussed more below), but more than a third of employees want to work from home permanently. The reasons they cite most are: no commute, cost savings, avoiding illness, time savings, and not having to get dressed for work. Contrast this with the Society for Human Resource Management statistics that say that 68% of employers want workers in the office at least three days per week.
TRU conducted several non-scientific LinkedIn surveys on the topic and received hundreds of replies. TRU asked how employers should make decisions about how to return to the office — 73% said allow employees to choose, 21% said do what's best for the company, and 6% said do what most employees want. TRU also asked what kind of work schedule employees want — 46% said 100% remote, 48% said split in-office/ WFH, 5% said in-office full-time, and 1% wanted their employer to decide.
When merging all these statistics with first-hand anecdotal observations, the theory of "1/3, 1/3, 1/3" materializes. About one-third of employees at most companies want to stay perpetually virtual 100%; another third want some sort of hybrid model (most employees in this category still want the power to choose when they come into an office); and the final third want everyone to be back in the office 100% (a large population of executives fall into this category). If this is the psychological makeup of an organization's staff, then there is simply no choice that will win the hearts and minds of the entire employee population. A segment of the business is going to feel disadvantaged or disenfranchised one way or another. As a result, over the next six months, service providers, law firms, and corporations that were not a 100% remote workforce before the pandemic could experience a 33% or higher attrition of talent. Many are already there divisionally, if not companywide.
The legal technology job market tends to demonstrate early national trends that subsequently emerge more broadly. In June of this year, the U.S. Bureau of Labor and Statistics released a report called the Job Openings and Labor Turnover Summary. At the end of April, job openings were at 9.3 million, hires were at 6.1 million, and total separations increased to 5.8 million. That put the "quit rate" in the US at 2.7%. That is four million people who quit jobs in April! It is also worth noting that the second-largest increase was in professional and business services, with 94,000 leaving their current position of employment in a single month. Most employers in legal technology are already experiencing the 33% turnover that everyone in the country will soon feel.
"V" Versus "W" Shaped Job Market Recovery
Though many companies are experiencing what they consider the worst of their attrition cycle for the post-pandemic recovery, expecting a "V-shaped" return to employee stability and adequate restaffing, it is highly likely the recovery for legal technology companies and law firms will look more like a "W." Yes, by the end of Q2 2022, it is possible those same companies that are turning over 1/3 of their staff now could experience another exodus of talent spike.
Right now, there is a one-third minority of employees who believe they and everyone should return to an in-office culture because that is what is best for the business. This employee population has generally been a very un-vocal one because ultimately, what they are against is choice. Many employers are giving employees the freedom to choose whether to be in the office, hybrid, or fully remote, despite what some feel is best for the company at large. Giving individuals the freedom to choose rarely creates dissent, but this principle may not hold true six to twelve months from now as variant rewards/consequences evolve for those who chose to return to the office versus others who chose to stay home.
For the employees who chose personal freedom and flexibility over perhaps what their employer would prefer (ambition and going back to the office), a reckoning is likely to come at the end of the year or the beginning of next. Will employees who are in office between now and 2022 get promoted faster or in lieu of the employees working remotely? Will companies reward physical visibility and associate that visibility with credibility, self-sacrifice, and ripeness for advancement? With so many companies adopting hybrid and fully remote work models, will there still be plenty of opportunity for talent matriculation in droves come winter? If being in the office becomes the new corporate bias, will the employees who feel overlooked bother to stay and change that culture? Will remote employees accept pay cuts as a disincentive to remain remote? There are many unknowns, and right now, the number of opportunities available for professionals in legal technology is nearly limitless in the middle of the job market.
Thus, a "W-shaped" recovery with another period of restaffing to occur in late 2021 and much of early 2022 is entirely probable.
Inflation
Forget about the mild rising cost of oil, gas, and lumber. America's inflation will be a result of a war for talent. In the legal vertical, this will be especially pronounced in specialized areas of subject matter expertise like e-discovery, data privacy, information governance, cybersecurity, data analytics, and legal operations.
In recent weeks, TRU has witnessed project managers at service providers go from as low as a $75K base to as high as $125K base when changing jobs. This is a 67% increase in base salary compensation. At law firms, project managers are moving from as low as $110K to as high as $165K when changing jobs. This is an increase of 50% of base compensation. While these are examples and not entirely the norm, they are far from exceptions. In Q1 2021, TRU saw an average of 22% increase in base compensations for mid-market professionals changing employers. As employers scramble to find ways of getting talent to decline all other offers, expect the use of disproportionate base compensation, sign-on bonuses, accelerated stock vestments, freedoms to work flexibility, and more to be parts of a competitive job offer package.
Check out Part 2 of this series
HERE
!
Download the full PDF version of this article here: