The Top 5 E-Discovery Job Market 2021 Game Changers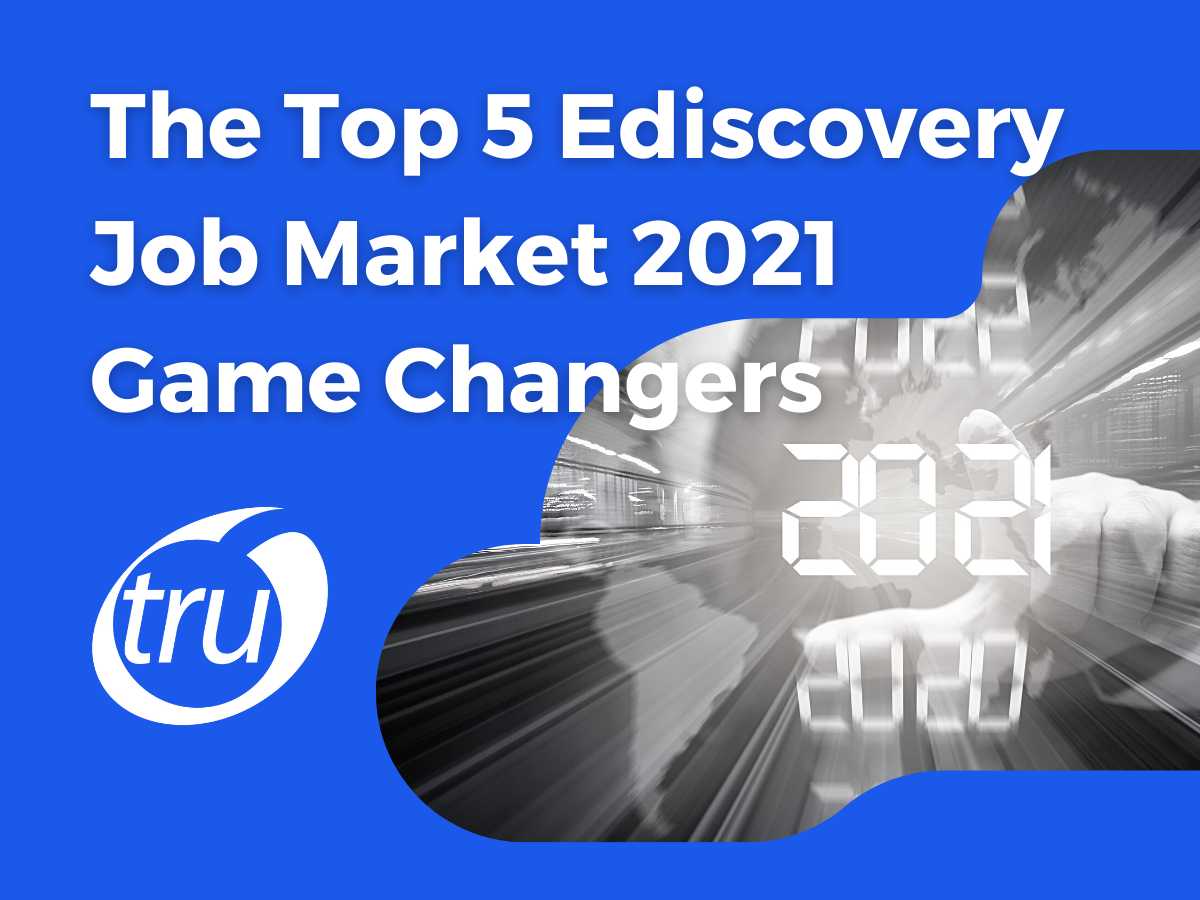 Following a year when courts and staffing shut down for six months in ESI, 2021 proved to be an unmatched period of hiring and job-hopping, the likes of which has not been seen in more than a decade. Here are the top five events that impacted the e-discovery job market in 2021.
No. 5: The rise of the user technology conference.
Twenty years ago, there was only LegalTech—and everyone went. Now, being part of an ESI community around a piece of technology has increasing value for professionals in the space, specifically for job seekers. Hiring managers in ESI place extremely high importance on software proficiency for net new hires at every level, and user conferences are the best ways to demonstrate fraternal participation and get certified.

There has always been a small smattering of user conferences, but the pandemic has accelerated the ease of delivering content to highlight products and users and deliver value to each. In 2021, ESI software companies took advantage of things learned virtually in 2020 and made the most of annual events. Most of these smaller user tech conferences have turned out to be as good, educationally, and companies like Relativity, Brainspace/Reveal, and OneTrust have seen notably increased numbers of certification completions. Additionally, TRU has observed spikes in hiring of professionals with tech skills specific to a brand in the four weeks following their user conference. In other words, the four weeks after "Fest" saw droves of Relativity talent change jobs.

Conferences have always served as job fairs for hiring managers, but the virtual conference has placed substance over socializing and created more competitive talent. As the talent ecosystem begins to codify, more higher-level, executive or director-level staffing spikes after larger, established industry events (like LegalWeek or IAPP's Global Privacy Summit), whereas entry and mid-level professionals have more leverage attending nuanced, specialized events like Nuix Exchange and Relativity Fest.
No. 4: DISCO goes public.
DISCO going public is e-discovery going public. DISCO's IPO marks a huge milestone for the ESI industry, moving into the eyes of the public sector, giving some of the job-seeker community opportunities to invest back into a company they work for, and ultimately bringing new legitimacy to the industry at large. Most importantly, it paves the way for other companies in e-discovery to make similar moves. Like all IPOs, the stock has had some peaks and valleys but generally has held steady in the high 30s/low 40s, spiking near $60/share earlier this year. With more money pouring into ESI than ever before (Everlaw grabbed another $200M+ in Q4 2021), the IPO path is now a target for many and changes the way employers can retain and attract talent with a level of participation and transparency in company financials that until now has been unprecedented to the average ESI worker.

When a company goes public, it's not just the company going public to raise money and funds from people who are external to the organization. It gives employees of that organization a chance to invest back in themselves with the opportunity to earn higher long-term yields in addition to a yearly salary and bonus at a law firm, where, for a non-attorney, equity will never be an option.
No. 3: Talent inflation.
America's consumer inflation rate breached 6.2% in October, but the inflation rate for talent in ESI far surpasses this figure. TRU found that, between January and April of this year, salaries went up 22% on average from the time somebody left a job and entered a new one. The usual averages are somewhere between 10% and 15%. Some underpaid talent are getting increases between 40% and 60% on job moves. This is exceptional for employees. It is and will continue to be a candidates' job market with salaries only going one way: up up up.
It's been a recalibration for the vendor and law firm community to look at what it will now cost to acquire talent, much less retain the people that they have. TRU found that between one in three or four employees left their job in the e-discovery industry in 2021. So essentially, everybody turned over between 25% and 33% of their staff and typically paid more money to replace the people who left. While the inflation rate on ESI talent continues to inch up (hitting a 23.5% average increase at the end of Q3) rather than escalate rapidly from the Q1 surge, the fact remains that most offers that are declined are rarely declined over dollars and cents. Timing and flexibility top the charts when it comes to candidate drivers and employer staffing success.
No. 2: Speed won the war for talent.
In January of 2021, TRU predicted that speed would win the war for talent, citing that, "The world just spent a year hesitating about any hiring needs," and "The average search lifecycle extended nearly three times its 2019 length in 2020."

Add to that, however, the complete transformation of the interview process from in-person to virtual, and the expansion of talent options (and reciprocally, job opportunities) available to employers (and employees), and the tempo of the hiring process took on a velocity that forced a recalibration of expectations around the time it takes to secure a new hire in a highly competitive industry. As 2021 comes to a close, the average search cycle for an executive-level hire (C-suite, VP, Director) from TRU has been four to six weeks from resume submission to offer acceptance. The average search cycle for a direct-hire, work-from-home, mid-level professional (program managers, project or review managers, analysts) is eight days. For contract hires, it is 72 hours. But if employers add in-office and vaccine requirements to mid-level hiring processes, they will risk adding months to their search.
No. 1: Return (or not) to office.
Law firms are losing the talent war by requiring staff to return to office. The average fully or hybrid in-office law firm job order for a mid-market legal technology professional takes eight to twelve weeks to fill—a far cry from the eight days for remote hires. Firms often receive multiple declined offers (even if they move at lightning speed) because peer employers—mostly ALSPs—offer fully remote opportunities at the same, better, or only slightly lower compensation.

According to Kastle Systems, the corporate key-fob king, law firm employees are physically back in-office at nearly twice the national average of corporate America, which clearly signals the disproportionate return-to-office mandates from law firms. Most job seekers do not want to return to an office working environment. The number one motivation of candidates who approached TRU in 2021 looking for new employment was a desire for remote job options caused by a forced return to office by their current employers.

Additionally, we found via an unscientific survey of 1,600 legal technology professionals that one in four will not comply with vaccine mandates as a condition of employment, which in theory will prohibit 25% of job seekers from exploring opportunities that require a return to office. Law firms have spent much of 2021 disadvantaging their hiring process by narrowing the pool of available candidates by demanding a return to office. That being said, 65% of the jobs that TRU filled at law firms over the last six months began as in-office and ultimately bent to being partially or fully remote at the point of hire.
Download the full PDF of this article here: