April Eye on ESI: New Trends Show Job Seekers Taking First Offers, Hiring Managers Taking First-Round Candidates
As Q1 of 2023 closes, the Eye on ESI team was back with the latest trends, predictions, and advice for both job seekers and hiring managers. ACEDS' Michael Quartararo and Maribel Rivera joined TRU Staffing Partners Founder and CEO Jared Coseglia for a fast-paced look at what's happening in the ediscovery industry.
Q1 2023 TRU Trends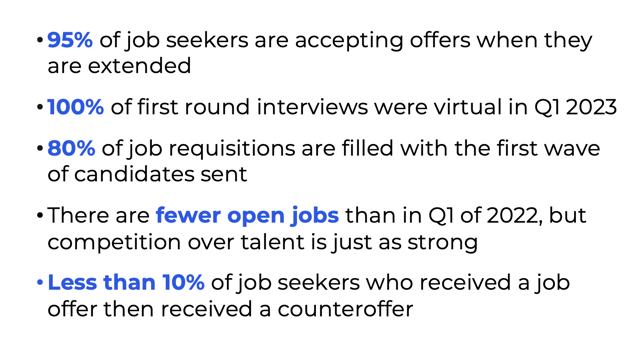 Jared Coseglia: We're at the end of the first quarter of 2023. Today, we have some trends, new statistics, and reporting on what has happened so far this year. I find this new data to be really fascinating because it helps us understand what is going on in the minds of job seekers and hiring managers. Here are the trends:
95% of job seekers are accepting offers when they're extended. This is a huge change, meaning what we saw happening last year were lots of people taking counteroffers or waiting to get multiple offers before they decided to take a job. That's ending now. Job seekers are serious about looking, which makes sense.
100% of first round interviews are virtual. This is the new normal. Interviewing first round will always be done by video. It doesn't matter if you're a C-level or you're an entry level, you're going to be interviewing virtually. it is now critical to your job search to be good on camera.
80% of job requisitions are filled with the first wave of interviewed candidates. This means that our customers are being more deliberate and decisive with their hiring practices. They want to see fewer, more targeted resumes. They don't want to interview 10 people. They want the process to be deliberate.
We're still seeing salaries stay high, and that is consistent with what we saw in Q2. Salaries are not coming down, meaning that the rate of hire in terms of dollars and cents isn't dropping based on market conditions. This is the new normal.
Less than 10% of job seekers are getting counteroffers when they resign. Employers need to find ways to cut headcount in order to add money back into their budget or to allocate those resources elsewhere. So if you're using your job search as leverage to get a counteroffer in this environment, you might be disappointed when you resign.
The Economy, "Job-Hopping", & Ediscovery Jobs
Maribel Rivera: Is this because of a so-called recession? Are people being extremely careful about counteroffers because they are cutting back on headcount or is it because of layoffs?
JC: Let's not use the word recession. What we're in is a state of uncertainty. And that state of uncertainty changes the behavior of the job seeker and the hiring manager.
MR: I think that's indicated in these trends.
Michael Quartararo: Back in the day, employers used to refer to people who moved jobs a lot as job hoppers. What does that mean in today's job market?
JC: It's completely different. The ediscovery contract marketplace has evolved into a state of normalcy for the way companies operate, whether it's a law firm, vendor consulting firm, or corporation. You're now seeing people move from contract to contract — from impact opportunity to impact opportunity — more frequently. Also, competition has been so fierce now that tenure is kind of the fifth, sixth, seventh thing that the hiring managers really care about in comparison to strong Relativity skills, having previous law firm experience, having previous vendor experience, having great soft skills, being able to consult as well as process data, and using the most advanced technology.
Having said that, does that eventually come around to bite that job seeker in the butt years later when they want to settle down? Maybe, but probably not from an employment standpoint, probably from a negotiation and bargaining for compensation standpoint. That's where that person who may be deemed a job hopper may have to make some concessions to now fit into an organization as a full-time employee. A lot of contractors are making a lot more money than they're probably ever going to make in a full-time job. So the question is: Do you want stability or are you looking to maximize your earning potential?
MR: I've read some things where millennials and Gen Zers are more prone to job hopping. Is that part of this as well?
JC: It's part of it, yes, but they'll change the way they think about things eventually. They're not going to stay 20 and 30 forever.
MR: Question from our attendees: I've seen a lot of interviews with law firm heads and corporate heads that say we aren't out of the woods yet as far as the not-so-good economy is concerned. When will things start to look more optimistic?
JC: Definitely 2024. I think it'll probably be the end of the second quarter. I'd expected it to be the end of the first quarter. It's not. Here's why: You're going to get two quarters in a row where Big Tech has high profits. If stock prices go up, then they're going to start hiring full time again. That doesn't mean jobs are going to become available. It's just the social cues that the rest of the world is taking in terms of the temperature of recession or non-recession. Big Tech is a good indicator of what the rest of the economy will probably do. The NASDAQ is up 25% in three months, and that means money in the coffers of those people. Once they have two quarters of really profitable earnings reporting, I think you're going to see that entire culture of full-time hiring accelerate aggressively.
Right now, contract hiring in Q1 has been fierce in ediscovery. A good indication of uncertainty is seeing contract numbers go through the roof. As we've been predicting, contract work may be 60% of our business. So you'll see where we're actually at here in a second in Q1.
Anyone that's worked in my organization knows that I always ask job seekers what motivates them. We track those motivations very closely to understand why people change jobs. Here is what we've learned: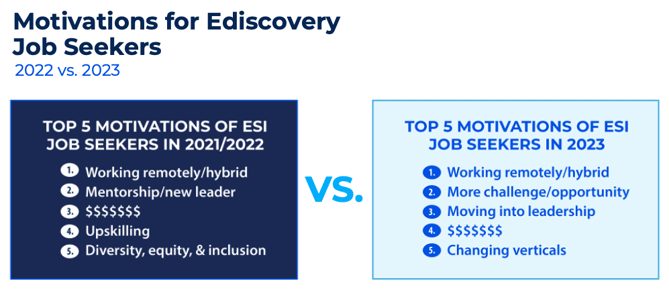 Remote Ediscovery Work Is the New Norm
In Q1, things really shifted. What we saw here in 2023 is that the No. 1 reason for people looking for jobs is they want remote or hybrid work. That's the one thing they're not willing to compromise on that has remained the same. You're going to see that really impact the numbers on the workforce evolution in a second. Mentorship and new leadership was number two last year. It's now dropped to number three. What wasn't even on the chart last year, which is now number two, is to obtain a more challenging opportunity.
People feel like they hit a ceiling in terms of earning potential and growth opportunities. The third reason on the slide is a really important one because this is where the industry is having friction. There just aren't enough leadership jobs available for all the people that want to move into one. If you're looking for how to really motivate an ediscovery project manager, help them understand what's next, not just that they're going to do the same job every day. Know that people have made a lot of money in the last few years, so that seems to be less important than other things.
Unfortunately, diversity and inclusion is just not something that's coming up in conversations right now. Changing verticals is a primary motivator, but people who come to us with that motivator don't ultimately take a job where they change verticals. They want to take a job in the space for other reasons, some of which are listed above. Why do I think DEI has dropped off the chart? Not because people don't value it, but in ediscovery, people are not coming to us saying "DEI is terrible where I'm at and I need to get into a culture where it is the No. 1 value of the organization."
MR: We have a question: Will you define what it means to change verticals?
JC: It means moving into a related adjacent market, like legal ops, data privacy protection, or cybersecurity instead of moving into a role that is either a lateral or vertical ediscovery position.
Ediscovery Salary Equity: Rules & Reality
MR: Another question, have you also noticed an increase in the number of job descriptions requiring nights and weekend work, with salaries that don't take that job requirement into account?
JC: Yes, customers should expect to pay a premium for someone working a second, third, or weekend shift. Candidates expect that. They are harder to fill for obvious reasons. People do post salaries, but I'll tell you guys that about one in three of our customers is paying more than what they told us the cap of their range would be in order to get the person they wanted to take the job. So you can't read those post-hire salaries.
MQ: Jared, I think you should unpack that a little bit because I'm not sure everybody is aware that certain jurisdictions now require that a job posting have a salary, at least a range in there. So that the intention is to really promote salary equity, right?
JC: Correct. It's to promote pay equality between men and women, but it doesn't relate to any specific industries. It relates to specific state/city jurisdictions. It is not a federal requirement yet. I'll be honest, I don't know that it's really changed anything, but we'll see. But I do think the thing that has changed is that people are seeing ranges. They're thinking that they want more than that range, and they're not applying. Our customers are telling us, "We posted the job for 90 days, and we're not getting any qualified applicants". There are a million reasons why they're not. This is one.
Next up: Jobs by employer for ESI. This is also a new statistic, this is just Q1, but this is who actually accepted offers in the first quarter.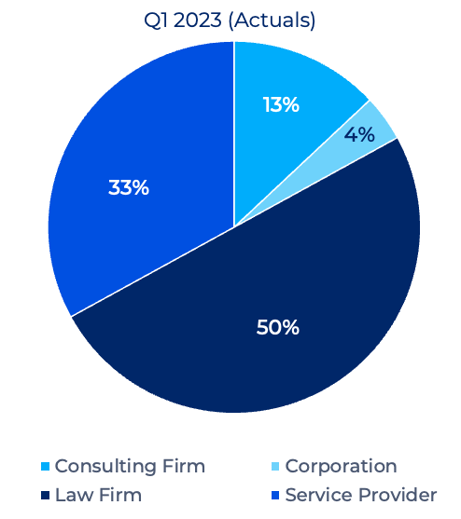 You'll see that law firms have taken over 50% of the marketplace. This is a huge change from the past. Vendors and consulting firms usually have about 65% of the open jobs that are accepted in the marketplace. This change happened because so many law firms are now hiring. Service providers are consulting firms and they tend to show the greatest reluctance to spend money on headcount. Corporations pull back before the service providers, which is why they're only 4%.
Law firms really struggled to fill jobs in the fourth quarter because they were forcing people back into the office. The market was still sort of hot. People weren't willing to come back into an office. Those jobs that were open, almost everything that we had open in Q4 got filled in Q1.
As you can see by the speed of hire for law firms, they're getting faster at making decisions. They're being more deliberate so they're getting more acceptances. See the speed of hire chart: law firm jobs for PMs have sped up. It used to be 120 days. It's now 70.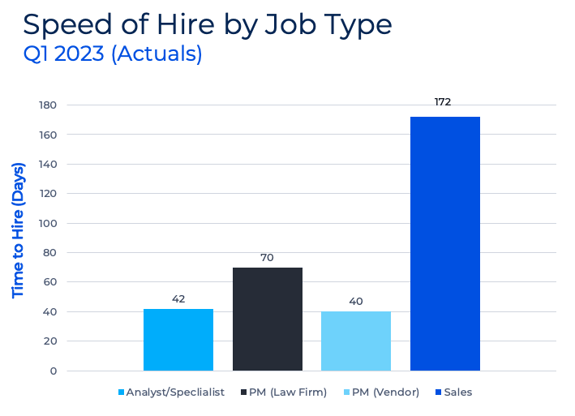 You might wonder if it really takes 172 days to hire a salesperson. I put this up here for two reasons. One is salespeople are generally passive job seekers. Second, hiring managers should try to move faster than this average to give themselves a competitive advantage to acquire the best available sales talent. Salespeople are sometimes negotiating hundreds, if not millions of dollars in guaranteed compensation over periods of time much longer than 90 days. Also, salespeople wait for commission paychecks. That extends the timeline as well.
For everybody else, you'll see the timelines. They're pretty much the same as Q2, except for law firm PMs. Notably, it's about seven days for contractors. There's still a high demand for contractors and plenty of opportunity.


Ediscovery Salary Ranges
Salaries haven't changed. What I think is really notable here is that these are the new normals in terms of salary and PM salaries. They have really gone up almost 40% from 2020. They're going to have to pay more for a law firm PM.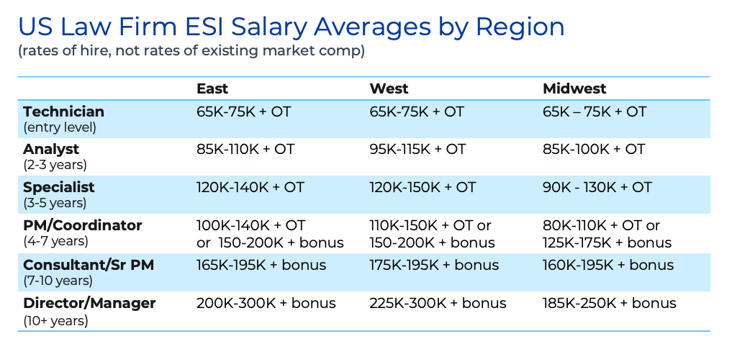 What's notable here is on roles for client service manager, client service director, analytics overlay, senior PM team lead, we're starting to see more of those jobs come open on the market, which is also a sign that certainty is coming because they're looking to put in net-new leadership rules that didn't exist before. So I think that's a positive sign as well.
MR: Why is there such high demand for contractors? Are these for ediscovery PMs and ediscovery managers?
JC: No one wants contract leadership. It's all project work. It's project managers, data processors, legal, data process, and database analysts, analytics professionals to serve as an overlay, review managers come in and help with big projects.
MQ: You may not be hiring full timers because it's a time of uncertainty or maybe you're being told you don't have budget. Maybe you can't fill an open spot right now. So how do you resolve that? Contracting!
JC: It's also about utilization, Mike. They may need a PM for a week, or they don't want to do reporting at the end of the year, or the candidate doesn't want to work full time. You bring in an experienced contractor. They bill what they bill, and the employer can project how much profit can be made with that individual. I think that also plays a part in what we're seeing as more people want to go into the gig economy – it's about the flexibility they get.
MR: So we're starting to see an increase In our industry around the gig economy. Will you further explain what the gig economy is about?
JC: You take control of your career, basically. I've built a whole business on the value of ediscovery professionals who have expertise that is highly sought after and hard to find. If you're looking for something with flexibility, those opportunities are out there. I think hiring managers in ediscovery have come to accept contracting as a real solution. If you're a contractor, you're exempt from going into an office. Our customers are finding value in that kind of role. If they can't find a full-time person that's going to come into the office five days a week, they can use a contractor to band-aid them until a full-timer comes along. It happens a lot.
MR: Let's take one more minute just to go through workplace evolution.
Hybrid, Remote, and On-Site Ediscovery Jobs
JC: In 2022, 89% of roles were hybrid, which means three days a week or fewer in an office. Then, 66% of those were 100% remote. In Q1 of 2023, 90% were three days a week or fewer hybrid or fully remote, and 75% of those 90% were 100% remote. So you are 100% remote, your jobs are getting filled faster, you are seeing more candidates, which also means you have to be more competitive and move quickly.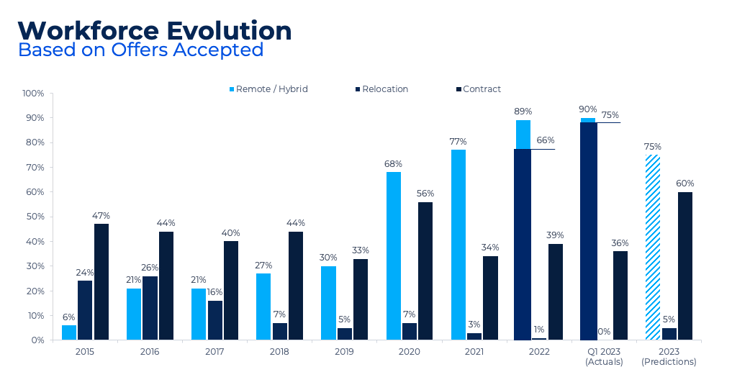 If we move on to contracting, you'll see here that contract roles are actually at 39% in 2022. It's now at 36% for ediscovery.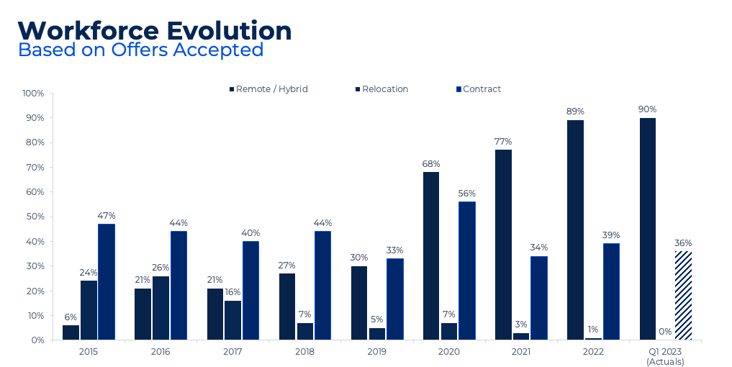 Now, why is that? A lot of it has to do with all the law firm hiring, which are leftover jobs that were open in Q4 that got filled in early Q1. But look, 36%, that's more than one out of every three jobs is a contract position. So it's a voluminous marketplace.
We'll see what happens with the rest of this year. I'll say this, if we do go into a recession, you'll see even fewer full-time jobs and even more contract hiring. Things will start to balance out likely in Q3. If you are ready to take advantage of the hot contractor market, be sure to reach out to the TRU Staffing Partners team to get started today.