Eye on ESI for January 2023: Contract Work Reigns Supreme as Recession Fears Slow Hiring Processes
The new year brings hiring managers and job seekers in the ediscovery industry some good news as shown by the recent marketplace statistics discussed in January's Eye on ESI webinar held on LinkedIn. TRU Staffing Partners' Founder and CEO Jared Coseglia was joined by ACEDS speakers Michael Quartararo and Maribel Rivera. Rivera began the discussion by inviting Coseglia to share the newest data for the audience.
MR: This month we are once again going over some stats that the TRU team put together for us. Jared, will you share those with us and give us some updates on what's happening in the industry?
Ediscovery Speed of Hire
JC: It's the beginning of Q1 and there have been a lot of real deductions made from the past year. We will share those with you today. So first off, we always talk about the speed of hire: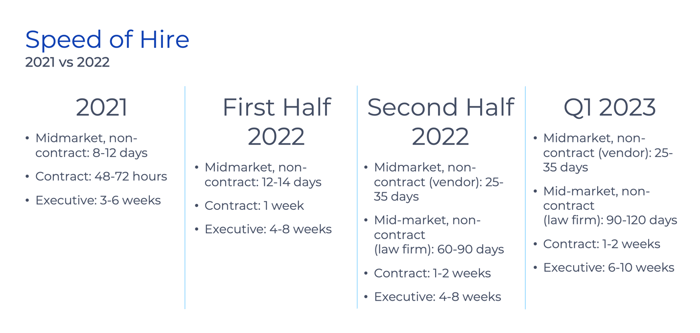 The speed of hire is the most dynamic variable that's changed in the job market since the COVID-19 pandemic. What we don't have on this chart are the variable numbers for timing prior to 2021. But as you can imagine, they were a lot slower than what you see here in 2021, which is really the peak of the speed of the market post pandemic.
The greatest frenzy was really into 2021. As we went into 2022, things have slowed down a little bit. But if we really look at what's changed since the second half of 2022, it's really the mid-market law firm hiring for ediscovery. You'll note vendors are still hiring project managers (PMs), analysts, analytics, and forensics professionals at a tick of about 25 to 35 days. And that hasn't changed. The main reason for this is because those jobs are still fully 100% remote. That means that hiring managers have the biggest pool of talent available all over the country, if not all over the world – both because they can search the best talent regardless of geographic location, and also because that's what the talent wants (to work remotely!).
Why are law firms dragging it out another 30 days slower than what they were doing in the fourth quarter of last year? They're trying to bring people back into an office and they're holding pretty tightly to a three-day-per-week in-office commitment. The difference between asking people to come in three days per week versus two days per week increases your talent pool if you're a hiring manager in ediscovery by almost 50 to 60%. As soon as you drop down to two days, people are much more willing to consider that.
US Law Firm ESI Salary Averages by Region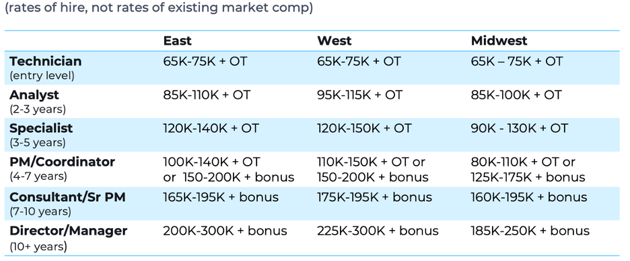 JC: Law firms are going to hold steady here. And if you want to work at a law firm and you're willing to go into an office three days per week or more, you have a real opportunity to continue to make the kind of increases in compensation that people have been making for the last two years, because that hasn't changed.
As just a sidebar, executive search is extending, but we think that has more to do with holiday preparation and the switchover from annualized fiscal years than it really does what we should expect when there's more executive staffing to be done in the second quarter. We think it'll go back to about a four-to-eight-week cycle.
This hasn't really changed. But that's good news because you would think that we'd see law firms wanting to pay less and they're happy to pay the new market standard. Money has not been the challenge in filling these jobs. Filling them in the specific geographies with in-office requirements has been the challenge. So, again, if you're somebody that's willing to go into an office, particularly in a big city like San Francisco, Palo Alto, Menlo Park, New York City, Chicago, DC — get in touch because there's a lot of opportunity. We are seeing people make 40-50% increases in salary, going from a $120k base to $165k, $170k in base, moving from a vendor to a law firm willing to go into an office.
US Service Provider ESI Salary Averages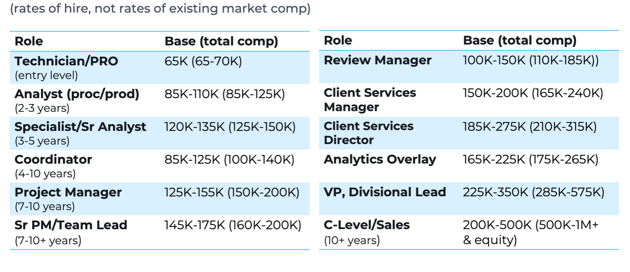 Salaries with service providers has not changed much, but I want to highlight this because we've seen a lot of entry-level placements in this area in the last six weeks or so. And we've moved this salary level to $65k. We placed six people in the last six weeks at $65k annual base. That is the number candidates are willing to accept. We're seeing people that are in IT or forensics moving into ediscovery. We see people with bachelor's degrees in technology and computer science finding their way into this industry. These numbers are what the market seems to bear.
MR: What's that skillset behind an entry-level technician/pro?
JC: It's around what I think is the single most important skill set for any job seeker, which is the ability to take direction. That's really what hiring managers are looking for. Can I train this person? Will they take direction? Ediscovery as a discipline has codified itself very quickly. As a result, it is very clear what people want from these entry-level people. We're starting to see the actual formalization of farming systems for the first time in a decade. A year ago, we were having this conversation about the lack of farming systems in ediscovery. Well, because the job market tanked in the fourth quarter of last year, and because inflation was so high in salaries, it really started to force more than a handful of ediscovery vendors to want to groom a next generation.
Also some news: TRU will be offering an internship with a vendor for the first time soon. This program will allow someone to come in and get on-the-job paid training as part of our scholarship program. We're really excited about that. It will draw a lot of interest and augment all the great scholarships that we have, including ACEDS, which gives a very generous scholarship to our applicants every year.
MR: Consilio's internship program at ACEDS is a part of that. And we're part of a few other farming systems too, including one with Relativity and one with the UF Law Ediscovery School. Extremely good for anybody who's trying to get into an entry-level role.
JC: The first thing you need to do to break into the industry is self-invest. And the people who've got their certifications and have never had a chance to apply that knowledge are getting preferential treatment when put up against other people that may have superior technical skills. These certifications signal to an employer that this is somebody worthy of making an investment in because they've already invested in themselves.
MR: When large corporations come to ACEDS, it is mandatory for them to go through our ediscovery executive certificate program. It is part of their onboarding process in either their first month or as soon as possible into their planning schedule.
JC: Back to the slide above, I'll share with you that we're seeing a change in the sales level as well. This downgraded from what was an average of around $250k for a base compensation for a sales rep selling more than $4 million a year in revenue. We've seen that drop down to $200k. There is not a huge appetite for people who are selling less than a million in ediscovery right now. And we are seeing employers offer fewer equity opportunities and demanding more proof of ability. I don't think you're going to see generous packages in 2023 for sales reps changing jobs as you did in 2021 and 2022. Having said that, if you are someone that is really on the exceptional track, you're doing a lot more than $5M a year, that never changes. Somebody's going to give you a fantastic offer to make a move if you're ready to make a move.
Workforce Evolution
JC: I want to cover workforce evolution and the pendulum swing when it comes to contract staffing versus full-time staffing. And there is also a pendulum swing when it comes to remote versus in-office expectations. The slide below shows exactly that. Since 2020, things go like this every 18 months now.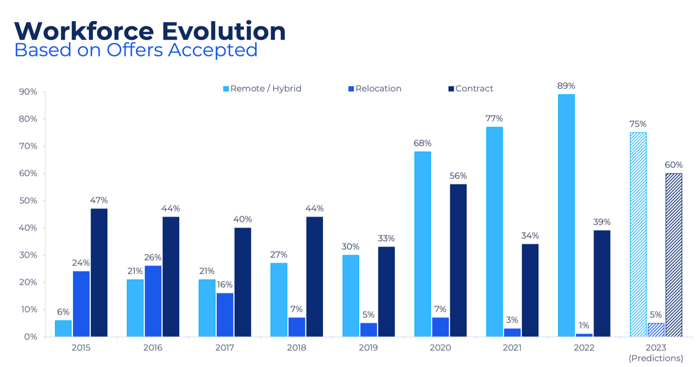 What you'll see here is a trend in 2022 for the remote/hybrid workforce reaching 89% in ediscovery. And two-thirds of that 89% were fully remote. Because of all the remote work, you'll see that relocation was at 1% last year. We predict relocation will go up because we're seeing law firms starting to be open-minded to people relocating to cities like New York and San Francisco to get them into an office. We anticipate that 1% will climb to 5%.
When it comes to contracting, this is probably the most important swing in terms of how the pendulum goes. As you could see in 2019, it was at 39%. Then during the pandemic, the market swung almost fully to contract at 56%. Then it bottomed out again in 2021, when full-time hiring exploded in the first three quarters. The contract business for the market ended in 2022 at 39%. That 39% is not indicative of a whole year. That 5% jump is indicative of a radical shift in the fourth quarter.
By the end of 2023, contracting is going to be close to 60% of the ediscovery marketplace. Because law firms are eventually going to have to either bend on their in-office requirements or the candidates are going to have to bend on their remote-work requirements. I don't see either of those things happening. We're at a stalemate, which is why the timeline for hiring is extended by 30 days for law firms. What they're going to have to do is either hire and relocate people or hire contractors and then let them work remotely.
MR: That's what we see happening. This is just going to continue, right?
JC: In the US, it's at 35%, which is more than one out of every three people. In ediscovery, last year it was 39%. That's the percentage of job orders we filled compared to full-time jobs where people were in contract or contract-to-hire positions. It's almost 40 percent of the marketplace.
And we think by 2024, it will stay at 40% because the market's going to stabilize. But you can see the swing of how things change in our industry. It is not just conjecture. This is how the market is behaving. And what employers can do to compete more effectively is consider contractors for short-term contracts because that talent pool is out there and available. It's not just out of work talent. It's people who are hitting the ceiling of their ediscovery careers and not wanting to be full-time employees. I'd rather go and work eight months out of the year and make more than I make in a full-time role. Maybe I don't need, you know, all the security and stability that comes with a full-time employment because the market is so rich with opportunity.
Now's a great time to be looking for a job. People are eager. People want to move fast. Ediscovery is a great community and a great industry, and I really am proud to be part of it and really glad to kick off the new year with all of you.