The Top 10 2022 Job Market Predictions in Legal Technology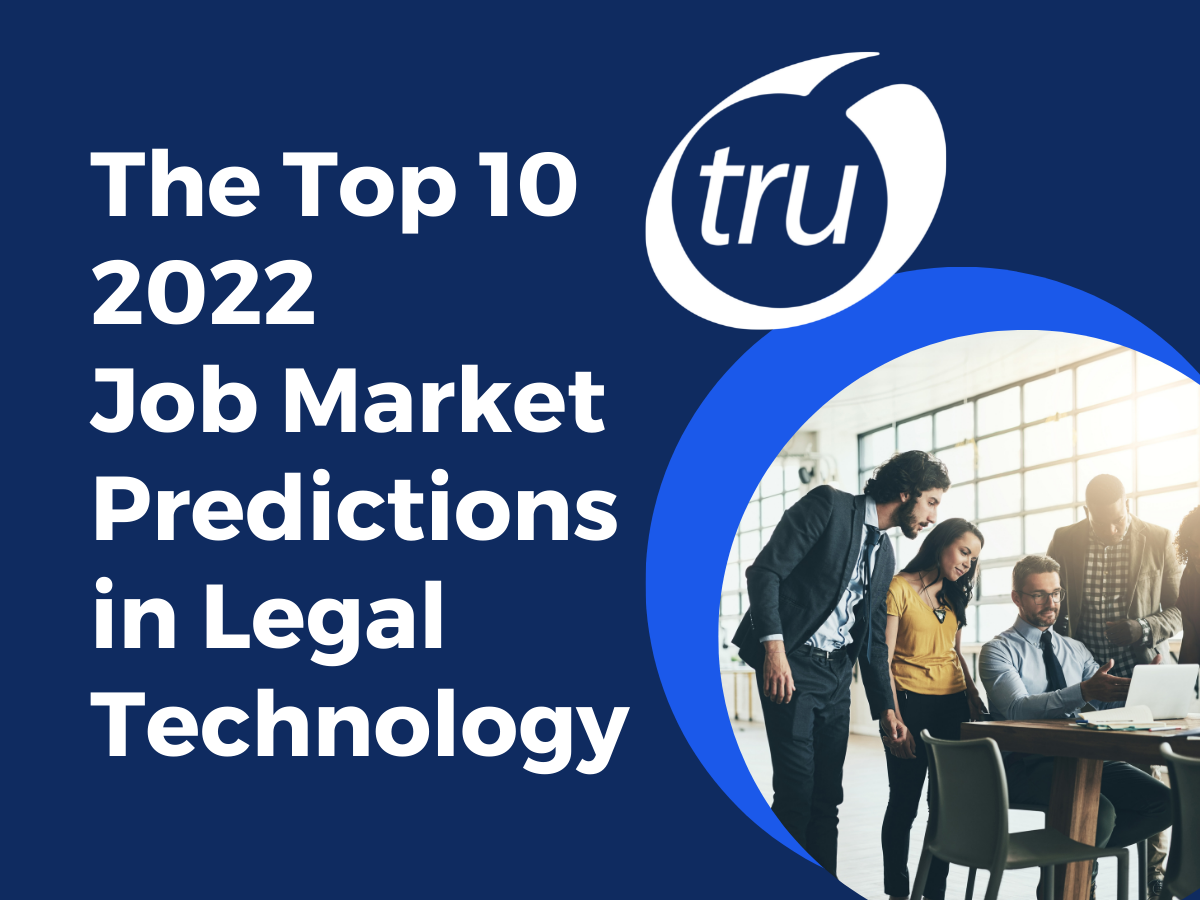 2021 was an unprecedented year of economic growth, with staffing challenges at the forefront of nearly every sector of the global economy. Legal technology was no exception, and in 2022 hiring will remain the top obstacle to business fulfillment across the ediscovery, data privacy, and cybersecurity landscapes. Here are the top ten predictions for 2022's job market and some advice on how to stay a cut above the competition—whether you are an employer or a job seeker.
1. Speed of hire will never be the same again
Whether there is ever a full return to in-office, or work stays hybrid or fully remote, remains to be seen, but the pandemic forever changed the speed at which new people are hired. 100% of first round interviews for every candidate at every level through TRU in 2021 were virtual. 90% of all subsequent interviews were also virtual. Virtual interviews expedite the process exponentially. The timeline for hiring an ESI project manager (PM) in 2019 was three to six weeks. In 2021, it took an average of eight business days from resume submission to offer extension for mid-market ESI talent (PMs, analysts, consultants), and a shocking 72 hours for contractors at the same level of experience. For data privacy and security, the timetables are not much different. CPO hiring cycles went from three to six months, to now three to six weeks on average. Virtual interviewing and quick hiring decisions are no longer just competitive advantages—they will be requirements to win the war for talent.
2. Salaries will increase another 15-30% for active job seekers
Don't expect to see a huge increase in base compensation when asking for a raise—but count on anywhere from 15 to 30 percent jump in base pay if you are a mid-market job seeker in data privacy, cybersecurity, or ediscovery. TRU found that, on average, job seekers increased their base pay by 22% in 2021 when changing companies. Negotiating during the pandemic is radically different for one reason: Job seekers are entertaining multiple offers. In 2021, active job seekers received an average of three offers at the point of salary negotiations (not including any possible counteroffers from their current employer). Additionally, contract hires are declining conversion to full time jobs an average 35% of the time because hourly employment has proven more lucrative and flexible, even though contract work often lacks health benefits. Companies will need to increase their salary bands to attract and retain legal technologists in 2022, as there is no indication that large portions of the job market will cater to hiring and grooming inexperienced talent.
3. Privacy specialization growth = Privacy contract staffing growth
The growth of demand for specialized privacy talent will coincide with the rapid growth of talent augmentation through contract resources. TRU's contract privacy roster grew by 178% in the last six months, largely via assignments seeking niche skill sets to fill gaps in the full-time team's competencies or assisting with diminishing bandwidth to handle existing workloads. Hot areas of specialization will include OneTrust implementation and customization, privacy product engineers, privacy attorneys with specific global regulatory experience, and contract-to-hire program managers and privacy analysts.
4. Pre-IPO companies will aggressively hire CISO & CPO talent
Going public requires a level of regulatory scrutiny related to security and data privacy that many organizations have kicked-the-can on implementing or maturing over the last few pandemic years. As preparations for an IPO loom large for thousands of companies in the coming years, capital investment in C-suite resources—often driven by private equity—will be abundant. If you're a CISO or CPO who's gone public and wants another bite at the apple, the job market will be ripe with opportunity for you to make an impact. Additionally, many companies want up-and-comers who can report to a board and handle self-software patching, so yet-to-be-ripened CISOs and CPOs with the humility/capability to be hands-on can also compete in this ecosystem. CISO's will get hired first, then CPO's.
5. ESI & privacy go IPO
DISCO's 2021 IPO has paved the way for other ESI companies to go public—and going public has been a means to attract and retain top talent. Few companies offer real stock plans with multiyear vestment expectations and incentives in ESI. Expect other companies to follow suit with many others, including Relativity, Everlaw, and Consilio possibly eyeing the move to IPO. But don't blink on OneTrust, the leading data privacy enterprise software company with an estimated $5.5B valuation. Employees working at these companies will have the unique opportunity to invest back in the companies they work at and this can be used to entice job seekers looking for ways to exponentiate their earning potential.
6. Equity for ESI sales reps
2020 saw the lowest number of ESI sales reps changing jobs in 10 years. Most underperforming discovery sales professionals have since either left the industry entirely, moved into a tertiary discipline of sales, or have shifted into more account management-oriented roles that don't have individual contribution expectations. What is left is elite discovery sales reps who are consistently driving $3-5M in annual revenue or more—often much more. As big-box ESI players get bigger, the rising midmarket and boutique providers in the space are using the most powerful attraction tool in their arsenal to draw big sales reps to their organization: equity. Whether in the form of phantom stock, restricted stock units (RSUs), Change of Control (CoC) bonuses, or tried-and-true partnership equity, discovery providers small and midsize are open to offering earn-ins for those with the risk appetite and book of business. This will be a short-lived window of opportunity in 2022. Do not expect this trend to last long.
7. ESI & privacy project managers dominate demand
The two roles in highest demand in 2021 were the ediscovery project manager and the privacy program manager. Both roles command anywhere from $100-175K in base compensation, and one out of every four placements at TRU in 2021 fell into one of these two categories. Reciprocally, TRU tracked an equal amount of turnover for companies at this level, with a 25-33% attrition rate being the mean for most companies. This cycle of turnover will continue for at least another six months. The volume of job orders for this level of talent is so high—and the caliber so experienced—that when one job is filled, another goes open that must be filled with someone who is equally or more experienced. In a market where these roles generally require five to seven years of experience, there is not enough experienced talent to go around, and until the community creates a sufficient supply, salaries will continue to rise for coveted experience in these sectors.
8. Outside counsel develop non-legal privacy service offerings
While maintaining compliance and writing privacy policy will certainly keep many an outside counsel busy, more law firms will look for streams of additional revenue that go beyond pure privacy attorney work in 2022. Just as litigators built ESI or litigation support departments in the Am Law 200 during the early 2000s, so too will privacy service programs rise that offer all sorts of non-attorney revenue opportunities to build and maintain programs or implement technology. Check out what Katherine Lowrey and IncuBaker are doing at BakerHostetler as a predictor of things to come.
9. Law firms fight for return-to-office
2022 will bring more of the same when it comes to law firms forcing a return-to-office for staffers (and some or most attorneys). The problem with staffers being forced back and attorneys not being forced back is not only the pronounced polarization of class systems, but also that many staffers rely upon casual office interaction to get the attention or win the trust of their attorneys. Many lawyers—particularly partners—are simply not coming in anymore. Conversely, many of the staffers they rely on resent the return-to-office mandates for reasons related to safety or life balance. Law firms will continue to struggle to hire talent for non-practicing roles when commuting is involved in any capacity—not because of more variant Covid surges, but because legal staffers now have a fundamentally different perspective on the value on being in an office to be successful in the legal industry.
10. Fundamental adaptation to COVID conditions
Analogous to post-9/11 plane travel, where what it meant to fly changed fundamentally, what it now means to work has also forever changed. Things will never go back to the way we worked before COVID. Companies that don't adapt will find themselves incrementally compromising their geographic preferences, return-to-office, vaccine, and mask mandates, and remote work flexibilities to finally get people hired. The employee relationship with work has changed dramatically and the recent Omicron wave has reinforced that in 2022 law firm and corporate nimbleness, remote empowerment, and in-person flexibility will be the cornerstones of a desired company culture for most—if not all—job seekers in legal technology. Failure to adapt will lead to stasis in growth or a continuous rapid cycle of employee turnover that will disrupt business as much as the initial pandemic impact of 2020.
Download the PDF of our article here!